About Mr. Chad
I'm the author of the crime novel All Debts, Public And Private and its prequel, the crime novella, Getaway. Both are available for Kindle on Amazon. You can find out more about these books on my home page.
Oh, I'm also the self-declared Arbiter of Such Things®, no matter the subject.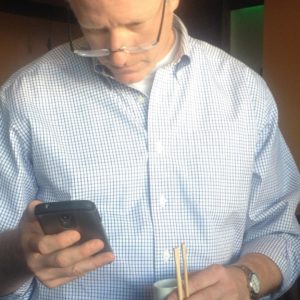 I live in a Kansas City suburb. On the Kansas side. Around here you have to declare such things.
Born and raised in a small Kansas town. Graduated from Kansas State University (EMAW!). Then got the hell out of Kansas.
Moved to Boston, made some friends for life and met someone willing to put up with me.
After a few years moved with her to Columbus, Ohio. Had a kid there, then convinced my wife to move to Kansas City. To be closer to home…but not so close family could drop by without calling first.
Once in KC, promptly had another kid.
Sum total: Married, father of two. Everything else is window dressing.
The Window Dressing: Write a lot. Cook even more. Eat even more than that.
I'd love it if you would join my email list. It's the best way for me to keep you in the loop on what's going on with my crime fiction. Occasionally, I'll send you updates, but probably not too often.  And I promise to try to keep them short.
If you would like to know a little more about me and my writing, check out this interview.
Last but certainly not least, if you want to connect with me on social media use the links at the bottom of the page. Also, you can find me on li.st: mrchadsanborn
I look forward to hearing from you.